This will be the ONLY workshop offered in 2013 and may be the last group workshop I will offer. I will still offer one-on-one mentoring sessions, however.
If you have any questions, you can email me at julie@julieparkerphotography.com. To pay, just click on the paypal link on the side bar. You can see images from past workshops here and here.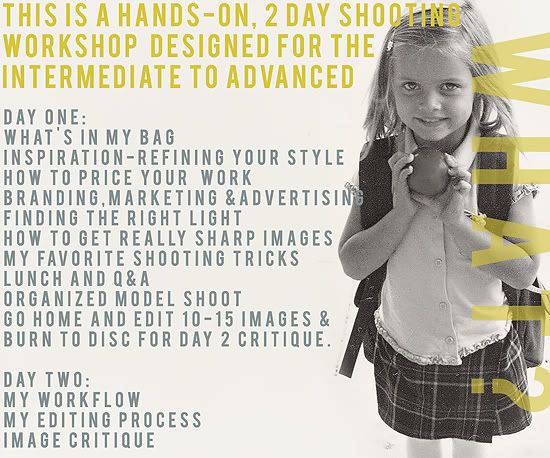 Here are a few testimonials from past attendees:
"Thanks Julie for your excellent and informative workshop. I was impressed with the wealth of knowledge with not only photography, but marketing, branding, packaging, and editing. I would highly recommend your workshop to any aspiring or successful photographer."
"I was so impressed that she was so open and willing to share her photography skills, talents, tips and tricks, editing, etc. to make our business experience better and clients happy. Very beneficial"
"Julie Parker's workshop was worth every penny! She is such a great teacher and way down to Earth. Would do it again in a heartbeat!"
"Julie is very open and willing to share her expertise with her students. Her creativity and planning make this one of the most unique workshops I've ever attended."
"Julie is a master at detail and making all her photos magical. She explained things in an easy way where I did not feel overwhelmed...just inspired."
"Julie was personable, very organised and extremely fun to learn from. I would totally recommend her to other photographers."
"Got questions? Get Schooled. Julie Parker is phenomenal, frank and funny. Your camera will love you for taking her workshop."
"I learned so much from Julie. The hands on tips, lighting tips, business tips and editing tips were worth the money. It was an amazing experience!"